Finding quick and easy vegan recipes can be difficult, especially when you consider all of the complicated ingredients many of the instructions require you to have. To make it easier for you, we have compiled 27 delicious vegan recipes that are both healthy and mouthwatering, all while being completely animal-free and easy to make!
With only a total prep and cook time of 25 minutes, this tasty dish needs to be added to your arsenal of vegan recipes! Its combination of traditional home-cooked flavors and spicy Vietnamese kick makes this a go-to if you want to try something a little different than the usual. This is a great meal if you are short on time and it requires little effort, earning this recipe a spot on our list. This recipe can be found here.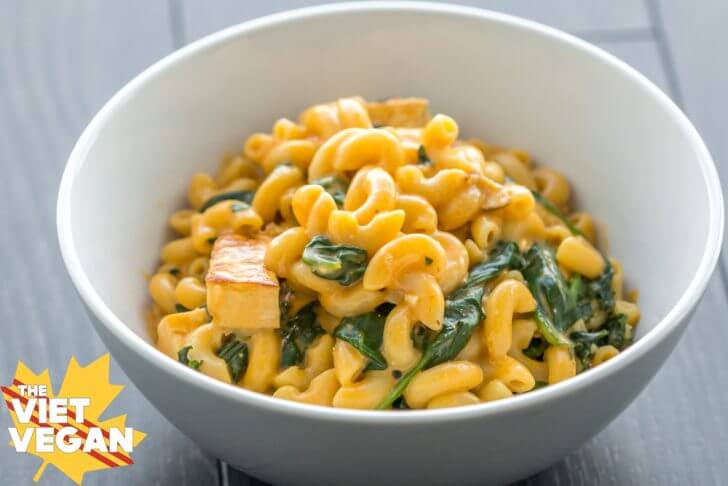 This fresh and summery pasta is a great seasonal lunch or dinner for you and your family. This recipe is not time-consuming and is a hit with everyone who has tried it! Its blend of herbs including basil, sage, oregano, and rosemary make this meal taste like you just got back from an extravagant Italian vacation. You can find this recipe here.
This gluten-free soup is as hearty as it gets! Similar to Olive Garden's zuppa toscana, the soup is creamy and filling, all while still being completely vegan-friendly and healthy to eat. While there is a variety of ingredients necessary, this meal still has a low prep and cook time, landing at only 30 minutes total. This recipe is here.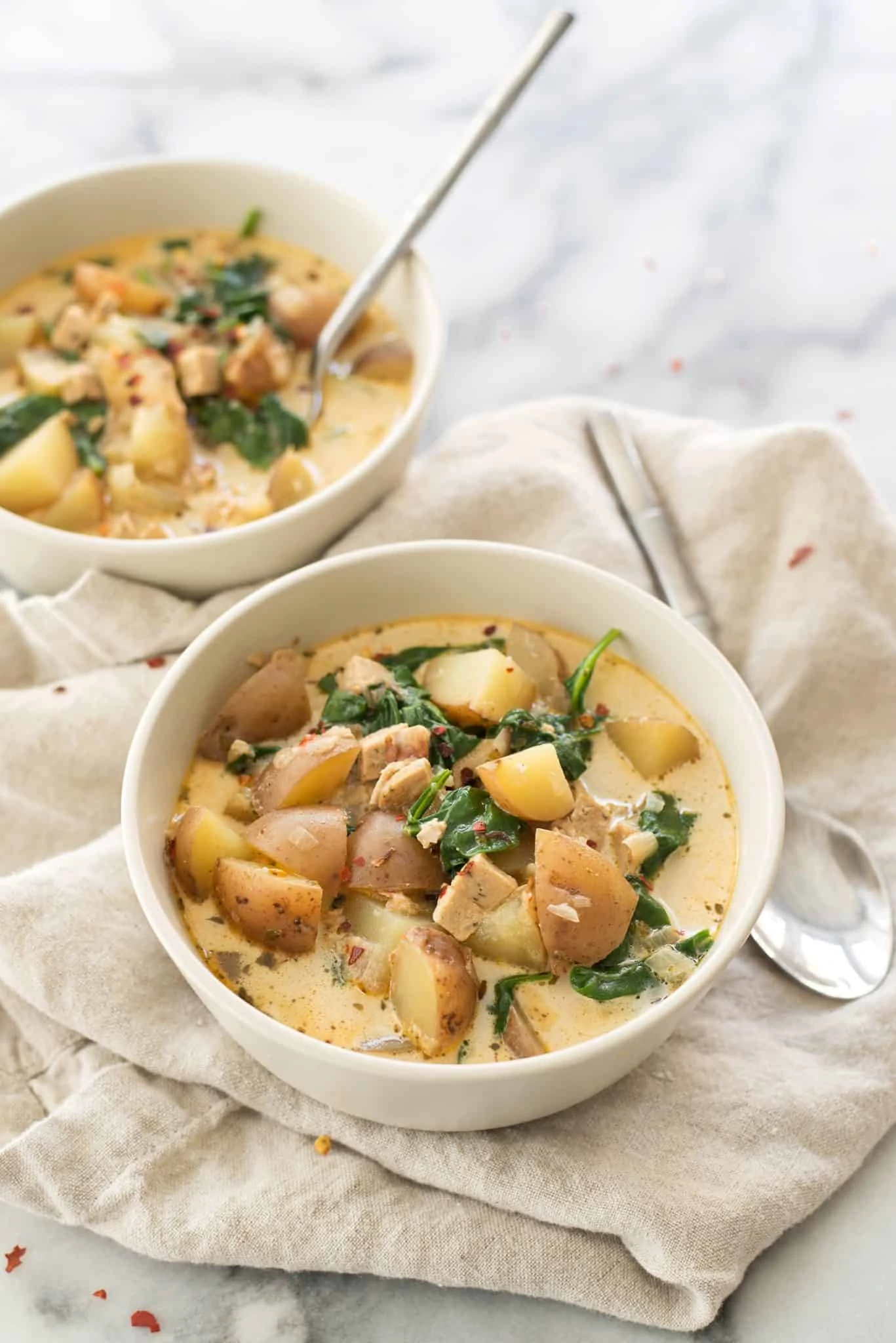 Missing all of the cheesy goodness you used to enjoy? Don't worry, we've got you covered! This recipe is a tomato, basil, and cashew mozzarella panini with the creamiest vegan cheese you have ever seen. Even better, it does not require a panini press or a grill; all you will need is a dry frying pan and you are set. You can find this recipe here.
Pizza doesn't have to be chock-full of meats to be good; this recipe includes sun-dried tomatoes, broccoli, jalapeno, and creamy cashew sauce. Its crispy edges will crunch in your mouth as you eat the colorful array of vegetables on top, making this a healthy alternative to any pizza. This recipe is here.
This Greek and Mediterranean-inspired bowl has crispy chickpeas and fresh sauce to cover the colorful dish. You've got a whole garden on your plate with this meal! It can be eaten alone or paired with the vegan falafel found on the same website. It can be made in under 30 minutes, making it a great lunch meal if you're in a hurry or just don't want to spend the time cooking that day. You can find this recipe here.
Unfortunately, some children have severe allergies to gluten or dairy. This meal is an easy way to get around allergies while still allowing your child to experience staple kids meals. The spaghetti-o's gluten-free anellini pasta is still packed with flavor, just without all of the extra unhealthy additives in the original product. This recipe can be found here.
With savory mushroom gravy poured over the protein-filled lentil steak patty, this comfort food never gets old. It is low-calorie at only 317 per serving, which is ideal for those looking for all of the flavor without ingesting too many calories in one sitting. This is a great family dinner meal and takes only 35 minutes to prepare. The recipe can be found here.
These tacos have a consistency similar to fish tacos, but without the meat you are trying to avoid. The cauliflower is baked to give it the most desirable texture while still allowing the flavor to shine through. They are coated in a creamy yum yum sauce and topped with retired beans, cumin, cabbage, and garnished cilantro. You can find this recipe here.
While vegan enchiladas are not new to the market, these enchiladas will change the game for you. They are packed with black beans, red onions, bell peppers, and portobello mushrooms, all sautéed with a spice blend to give it the little kick it needs. In place of cheese, this recipe calls for a veggie blend. Step up Mexican food night in your household and try these colorful enchiladas here.
If you have an Instant Pot, you already know how user-friendly the product is. With the Instant Pot, you can make this meal in no time. It has sweet potato chunks throughout it, along with palatable spices like chili powder, cumin, paprika, and cayenne pepper. Its bourbon and maple syrup combination add the little bit of sweet and tangy that brings this dish to the next level. This is the perfect autumn meal! You can find it here.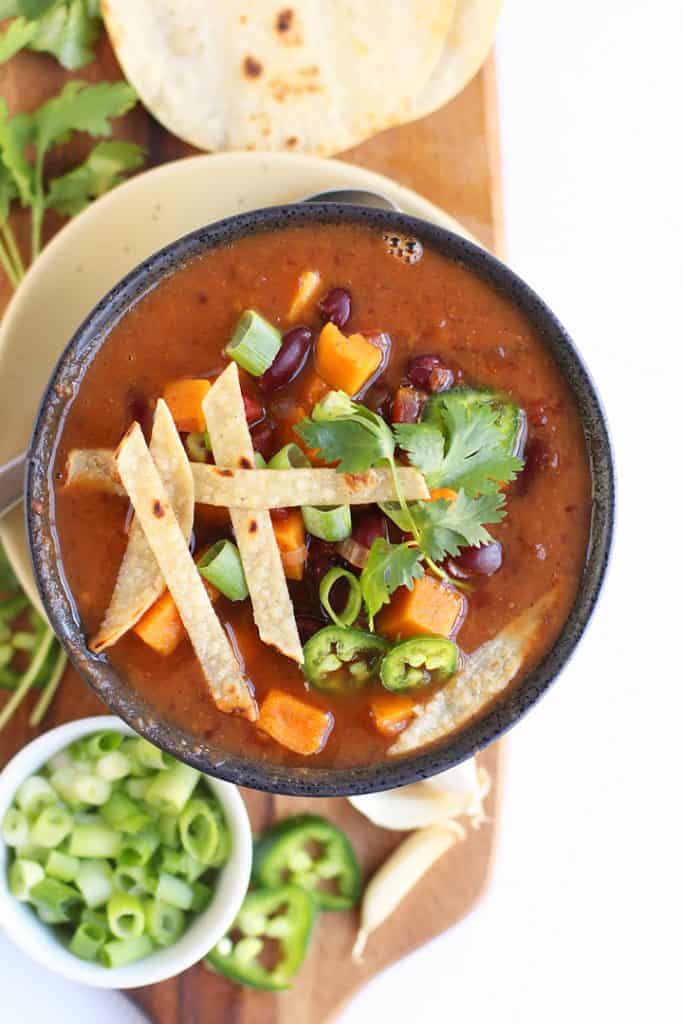 Asian cuisine is notorious for having vegan alternatives, and this plate is no exception. Instead of chicken, tofu is substituted to make it friendly to all vegans! It has ginger soy sauce and cauliflower rice that tastes just like the real thing, but without all of that grain and gluten. It does require some advanced kitchen tools, but the end product is worth it in the end! This recipe can be found here.
Do you have a sports game coming up? These crispy and delicious buffalo cauliflower bites may be your go-to substitute for the famous chicken wings many people enjoy on game days. It is coated in a variety of spices to give it an extra punch of flavor. The recipe also includes a spinach ranch dip that can be used to accompany the meal! You can find the recipe here.
While this recipe has a long prep time, it is well worth it in the end. This quesadilla is filled with sweet potato, brown rice, refried beans, salsa, and spinach, making it an incredible oil-free alternative to many other unhealthy options out there. It is simple to make and a great lunchtime meal, too! This recipe can be found here.
The sautéed vegetables make this Louisiana dish to die for! Instead of using meat, this recipe calls for chickpeas and beans, giving it the same amount of protein you would get in a traditional jambalaya cuisine. It is filling while giving you all of the necessary nutrients, and it tastes great, too! This recipe can be found here.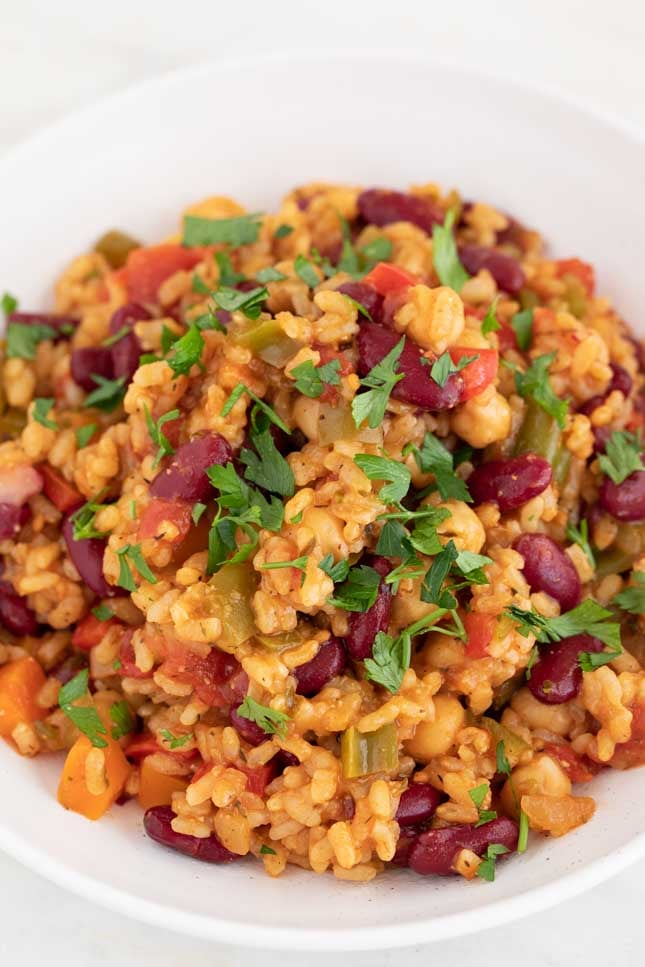 If you're looking to switch up your dinner and do breakfast night, this is the recipe for you. With smoked tofu, ripe avocado, fresh greens, and tomato slices, this breakfast sandwich puts a spin on the traditional BLT. It takes under 5 minutes to make, so if you're running late this breakfast sandwich is quick and will keep you full the rest of the night. This recipe can be found here.
These baked bell peppers stuffed with brown rice and vegetables are bursting with flavor in every bite! The flavors all balance one another out; from the sweet carrots to the mushrooms to the sautéed onions, this dish has a unique palette that works in complete harmony. Try out this recipe here.
This soup tastes just like the real thing! It is completely vegan, substituting beef stock for vegetable stock and omitting the cheese and bread. Full of antioxidants, this meal is great if you're not feeling well due to the onions, garlic, scallions, and more that all help eliminate toxins from the body. You can find the recipe here.
Sometimes a burger just hits the spot. But what do you do to substitute the meat? A portobello mushroom is the answer; when grilled, they become tender and juicy patties that work perfectly with the Japanese-style avocado spread. Try out this recipe here.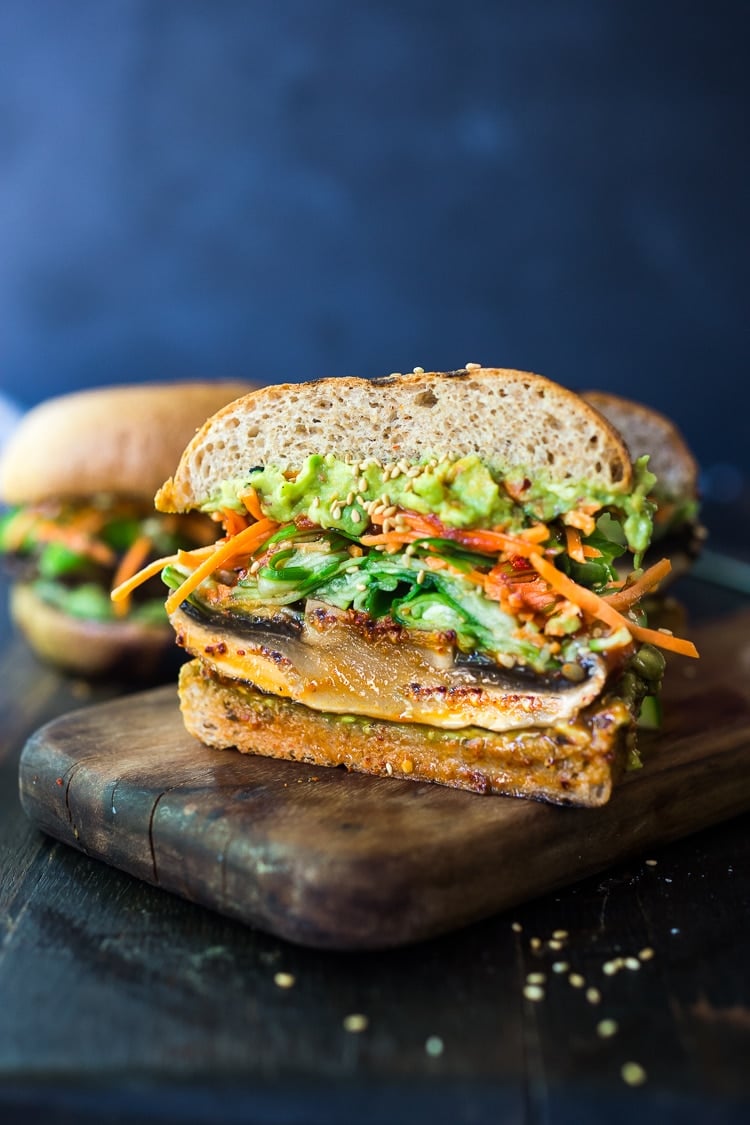 With creamy artichoke heart sauce and vegan mushroom pasta, this dish is the perfect substitute for the non-vegan pasta dinners you used to have. This dish can be made in under 40 minutes, making it a great meal any day of the week. You can find the recipe here.
This dish takes little-to-no time to make and is a great lunch to take to work with you! It is refreshing while still filling and it's beautiful colors are appealing to anybody. It can even be saved for up to another day if you want to meal prep! You can find this recipe here.
A delicious take on the traditional lasagne recipe, this meal embodies home cooking to a T. After the first bite of mixed vegetables and cooked pasta, you will feel at home. This dish pairs well with a side salad, too! We have a few in this article or you can make your own to your liking. Try out this recipe here.
This 5-minute recipe is a go-to for a quick after-work meal. With a spicy kick, this dish will get your nose running! You can adjust the spices to your taste if the heat is too much, or you can kick it up a notch. Enjoy this dish with a variety of vegetables mixed in or with a refreshing side salad to clear your palette. You can find this recipe here.
Topped with vegan chili, sour cream, and cheese, this all-vegan baked potato is carb-loaded with goodness! This loaded baked potato can be eaten as a meal or as a side, but either way we know you will love all of the fix-ins this potato has to offer. You can find the recipe here.
While mole sauce is traditionally used in enchiladas, these tacos took the sauce to the next level. Combined with a variety of vegetables and spices, this dish is perfect for switching up your nightly meals. The grilled peppers are also a great addition to the dish's spice. You can find this recipe here.
This salad is incredibly easy to make while being delicious and filling! It has black beans, roasted peppers, avocado, red onion, and more to make this dish bursting with flavor in every bite. It can be taken to work for lunch or made as a side dish to go along with another one of our vegan-friendly meals. You can find the recipe here.
Its vibrant fuchsia colors would attract anyone to this dish, vegan or not! It is absolutely mouthwatering, all while being low in calories. Its roots are in Sri Lanka where curry is a regular meal, and it's time we make it a regular here, too! Its naturally sweet flavor comes out as you cook the beetroot. This recipe can be found here.
Eating vegan meals does not have to mean you are completely vegan; even eating one of these meals once or twice a week can significantly reduce the amount of animal products we eat as a whole. It isn't all or nothing; just a little bit of effort can help the collective consumption of animals we eat.
These dishes are all quite simple while still being unique and flavorful, giving you many options to choose from when deciding on your next vegan meal. Vegan meals do not have to be all tofu, either! We have included a variety of recipes for you to choose from, from spicy Asian-style foods to savory soups to traditional Tex-Mex; we have you covered. Try out these recipes and see how delicious vegan meals can be.
See Also
Other Resources